The investment objective of the Company is to achieve attractive total returns per share principally through capital growth over a long term period.
---
Investment approach
Our investment approach applies the following three core elements of the private equity investment philosophy to public markets :
Highly focused
Long term
Engaged 'ownership' investment style
Highly focused
We look to build a highly concentrated portfolio of no more than 25 companies where we carry out intensive diligence, only investing behind our highest conviction ideas. We focus our investments on smaller companies, typically too small for inclusion in the FTSE 250 index. We believe the best investment decisions are made from a base of knowledge and experience, and we will make the majority of investments in industry sectors which we know well (TMT, Services, Industrials and Healthcare).
Odyssean: View of sectors
Our core sector focus is driven by our investment approach. We focus on sectors where the team has expertise and where we have successfully made money. Companies with the following characteristics best suit our investment approach:
Low cyclicality
B2B focus
High / improving ROCE / cash margins
In-house sector expertise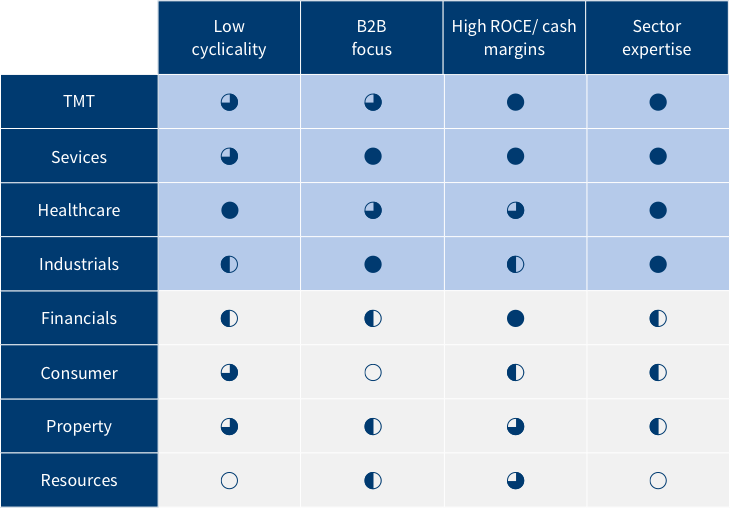 Long term
We evaluate each investment opportunity over a 3 to 5-year investment horizon. We have structured our business to reflect this belief and do not intend to run any capital which is redeemable over short time periods. To think like an 'owner' of a business we believe your capital should behave like one too.
Engaged
We are engaged investors. We like investing in companies which, whilst good, are under-performing their potential and where we see the opportunity for constructive corporate engagement to unlock improved returns for all stakeholders. We look to build large, influencing stakes in our investee companies and be a supportive partner to management.
The opportunity
We use engagement to create, defend or recover value and to deliver differentiated returns.
How to invest
The Company's shares are traded openly on the London Stock Exchange and can be purchased through a stock broker or other financial intermediary.
Register for EMAIL alerts
Subscribe to be updated on announcements, news, and information.
Frostrow Capital is an independent investment companies group and AIFM.